Decadence VR
Decadence partecipa alla versione virtuale del famoso Festival Burningman,
che quest'anno verrà tenuto in una location completamente digitale, The Multiverse.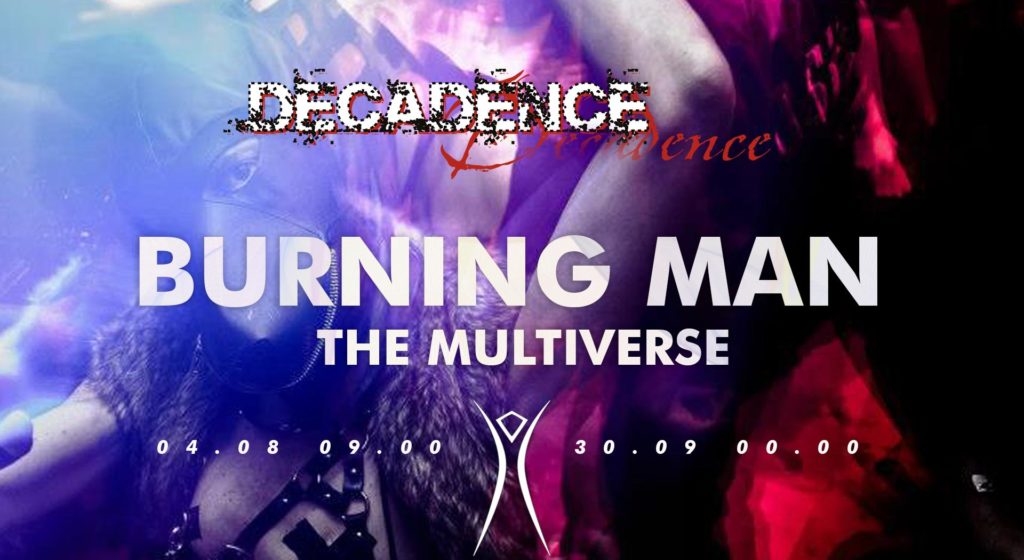 Per poter partecipare all'evento scaricare l'applicazione cliccando sul flyer in basso o al seguente link del Google Drive.
Nei prossimi giorni verranno aggiunte altre versione oltre quella in alta definizione per Windows sempre al solito link.
Burning Man for the fist time is broadcasted from Sept 1 in an interactive 3D digital multiplayer world powered by holographic, augmented and virtual reality (for PC, iPhone and Android). We are proud to announce Decadence VR, takes part of this largest virtual live art and music event launching a 3D spaced out replica of one of the oldest Italian's castle with different rooms with Dj sets, live sets, and performances.
Decadence VR goes to Burning Man the Multiverse, is available via app till September 30.
THE EVENT WILL BE FREE
We've put together a toolbox to help you navigate inside the platform
(in the folder of this link).
Please note: You can use a computer, phone and/or VR headset (soon) to access.
For every technical help send an email to misogina19@gmail.com
thanks to: • Ash Code • arabian Panther • Arpa del Diavolo • Bedless Bones • Bestial Mouths • Blind Delon • Chris Shape • Dave Inox • Delectro • DonTToxique • Errata Paranoia • European Ghost • Error508 • FBS Bloody Circus • Geistech • HIV+ • Jan Loup • Jørgen Thorvald • Julia Bondar • Kat Yusti • Kendal • La Croix & La Banniere • Lunakya • Mitch667 • NNHMN • Pablo Bozzi • Panther Modern • Raul Parra • Raven • Romance Disaster • Roby M Rage • She Pleasures Herself • Supersimmetria • Tying Tiffany • Valentine • VELVET MAY • 89s†